My husband and I recently found a farmer's market that takes on Wednesday evenings near the Dell Diamond.  You can find all sorts of yummy goodies from baked goods, fresh meat, fish, and poultry, fresh fruits and veggies, delicious beverages, and even yummy homemade popsicles.  One of my favorite booths was for Sweetish Hill Bakery and they featured fresh bread products.  I found some delicious sesame seed slider buns and they were the inspiration for these quick and easy sliders.

---
Your favorite slider buns or hawaiian rolls sliced
1 lb. of fresh ground beef (we used extra lean from Central Market)
1 cup of sliced sweet vidalia onion
2 tbsp water
Salt & pepper to taste
Ketchup, mustard, & pickle slices to garnish

---
Divide the meat into about 10 small meatball size balls.
Preheat a stainless steel pan* to medium-medium high heat (it was level 5 on our electric stove).
Place half of the sliced onion into the pan and cook until slightly soft stirring frequently to ensure they do not stick.
Then place 4 meatballs at a time into the pan (on top of the onions) and squish each one flat with a sturdy spatula to form your patty.
Season the meat with salt and pepper to your liking.  Cook for 3 minutes uncovered and then flip the patties.
Add 2 tbsp water and cover the pan.  Cook for another 2-3 minutes until the burgers are done.
Move the burgers to the buns, top with onions, ketchup, mustard, and pickle.  Repeat the process again until all your meatballs are cooked.  ENJOY!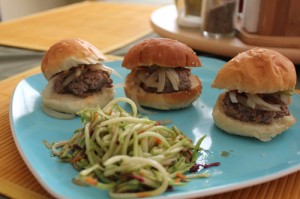 *my hubby loves to buy kitchen things and his new favorite toy is his All Clad Stainless-Steel 12-Inch Fry Pan
.  Although it was an investment, we both LOVE the pan and think it's well worth the money.  We bought it from Bed Bath & Beyond with their 20% off coupon, so it definitely helped.