When I got married, I was lucky to receive a homemade cookbook filled with recipes from all of the lovely ladies that came to my bridal shower.  In that cookbook, I have found some of the best recipes ever!  Since this is Easter weekend, and I'm in charge of Easter Brunch at my house right after church, I decided to make this yummy cinnamon bread that the recipe was given to me from my mother in law, Cindy (hence the name!)  I hope you enjoy!
Ingredients for the topping:
-1/2 cup sugar
-1 tbsp cinnamon
Combine and set aside.
Next, you will combine the other dry ingredients which are:
-2 cups of flour
-1/2 tsp salt
-1 tsp baking soda
In another larger bowl, mix together:
-1 egg
-1 cup sugar
-1 tsp. vanilla extract
-1/4 cup canola oil
Next you will need 1 cup of buttermilk (I used low fat buttermilk to try and help make this a LITTLE healthier ;).  You are going to alternate adding and combining to the egg mixture the flour mix and the buttermilk.  When it's all combined, it'll look like this:
Now you are ready to pour half of the batter into a 9 X 5 loaf pan and then top with the cinnamon sugar topping.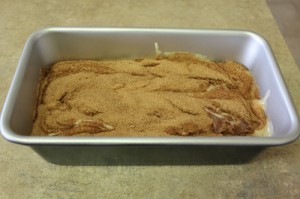 Repeat process until you end up with a nice topping of cinnamon sugar on the very top.  Then, take a knife and swirl it around in the batter.  Bake in a 350 degree preheated oven for 1 hour.