This salmon is quick, easy to make and delicious. I normally would make my own marinade, but the Bolthouse Farms Honey Mustard Dressing makes a great grilling sauce when pressed for time (it's also great on pork and chicken). Because it is a yogurt based dressing, you won't find it on the salad dressing aisle. Look for it in the cooler near the pre-made smoothies in the fruit section.
Ingredients: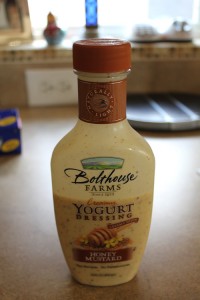 Salmon
Olive Oil
Salt
Pepper
Bolt House Farms Honey Mustard Dressing (Use enough to coat one side of your salmon fillets)
1.) Pre-heat your grill to around 400 degrees. You'll also want to use some kind of grill spray to keep your salmon from sticking.
2.) Prep the salmon by brushing or spraying the salmon filet with oil. We use the Misto Olive Oil Sprayer
.
2.) Lightly season the salmon with salt and pepper.
3.) Grill for 10-15 minutes total depending on your how rare you like your salmon. I cook for it 12 minutes for medium flipping around 7 or 8 minutes.
4.) Brush with dressing when you flip the salmon.
5.) Enjoy!
Pictured with Oven-Roasted Fingerling Fries