"Irie" is a Jamaican word meaning "it's all good" or "a state of harmony."
Last Thursday I attended a media event at Irie Bean Coffee Bar to check out their new Caribbean menu. Prepared by Chef Zach Hanson, formerly of the Four Season's Trio, the new menu was created to bring island inspired street food to the thriving Austin food scene. The new menu features several entrees all reasonably priced ($7 at the time of this article). Overall, I was impressed with the quality and balance of the food and the precise execution of each dish.
Quinoa & Sweet Potato Griddle Cake
When I saw this listed on the menu, I wasn't all that excited; however, I was pleasantly surprised. Made from a combination of quinoa and sweet potatoes, the griddle cake had a great crisp texture and a wonderful flavor. The pickled onions and fresh baby greens are a perfect contrast to the sweetness of the coconut sweet onion sauce. Highly recommended.
Calypso Jerk Chicken
An interpretation of traditional jerk chicken, this dish features jerk-seasoned chicken thigh served with a mango-habanero BBQ sauce, slaw and a side of Irie rice. The dish had a nice kick, but the spice did not overpower the other flavors.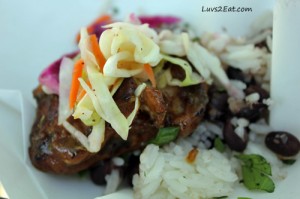 Jerk Fish Tacos
Served on a roll for the tasting, this was my favorite dish of the night. The Tilapia was perfectly seasoned and cooked, and all the components worked so well together. I guess you could say that the fish tacos for me were "irie".
Pulled Pork Slider
The pulled pork slider features slow-cooked pulled pork topped with Mango-Habanero BBQ sauce and a fried plantain served on a Hawaiian roll. The pork was cooked perfectly and was not fatty or greasy, which sometimes is a problem with pulled pork. I also loved the crispy texture of the fried plantain, which was a nice contrast to the bread and pork.
Dinner is served Thursday through Sunday from 5 to 10pm. In addition to the new menu, Irie Coffee bar serves Certified Organic & Fair Trade coffee, and has a great selection of local, domestic and foreign beers and wines. They also have a great back patio with a stage for weekly live music.
Location:
2310 S Lamar
Austin, TX 78704
For more information visit http://www.iriebean.com/.