I'm sure you are all familiar with celebrity Chef Tyler Florence.  However, I bet few of you have ever heard of his restaurant Wayfare Tavern.
If you are like us and don't live in the bay area, finding this place and actually getting a reservation is apparently like winning the culinary lottery.  Lucky for us, we had a wonderful concierge at the Hotel Vitale that managed to get us 2 of the most coveted seats in this tasty tavern.  After eating there for our three year wedding anniversary, it's easy to see how this is one of San Francisco's top restaurants.
Starting out with the ambiance, the place is filled with young, classy business execs sipping on a cold brew at the bar hoping to get a seat inside.  Lucky for us, we didn't have to wait long before the hostess escorted us upstairs into the small but cozy dining room above all the chaos.
If you are looking for a quiet intimate dinner, this is not the place for you. However, the service alone made this restaurant the BEST dining experience I ever had.  (But make sure you make your reservations early, because the place is so small it's very hard to get a reservation or else you might be stuck waiting for service at the bar which is often packed).  You have a designated beverage filler who makes sure you are never thirsty in addition to your waiter, who might I add had the best recommendations and was so kind and attentive. Our waiter Lane, thoroughly explained the menu to us, made great recommendations and made us feel at home.
Appetizer:
We started off with the Steak Tartare, which apparently is AMAZING.  I am not one to eat raw food, but my husband on the other hand could not stop raving about how this was the best thing he'd eaten in San Francisco.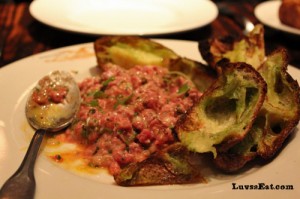 Entrees:
Moving onto the entrees, John ordered the Wayfare Tavern Burger "Le Grand" with a fried egg and I had the famous organic fried chicken.  I will now say that his burger was THE BEST hamburger I have ever had in my entire life.  This is probably due to the fact that it consists of 4 pieces of choice meat that have been grinded together to perfection.  Thanks to the world wide web, I found this link to the recipe. It's easy to see how some claim this to be the best burger in all of San Francisco.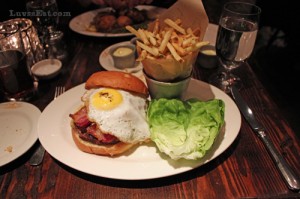 The organic fried chicken, although a bit pricey for fried chicken, was quite tasty.  I was sad to find out that it didn't come with any sides aside from roasted garlic and herbs, so lucky for me I shared the fries that came along with my husbands burger which was enough for the 2 of us.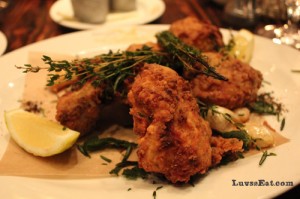 Dessert:
For dessert we opted for the Summer Berry Shortcake with Creamsicle ice cream.  It was so light and refreshing, the perfect summer dessert.  The ice cream was the best part!
Our Thoughts:
Overall, the food, service, and ambiance make this one of our new favorite restaurants and we will be sure to visit it on any future trips we make to San Francisco and you should too! We highly recommend it.