Last summer, when we were in New York City, we had the pleasure of visiting Magnolia Bakery in Grand Central Station. While we were there  we tried everything from the world famous banana pudding (one of the best we've ever had), cupcakes (the vanilla are my favorite), brownies, and bars.  After tasting their yummy treats we were inspired to recreate the experience at home.
We can't make a trip to NYC every time we crave Magnolia's delicious baked goods. Fortunately for us, Magnolia has published their own cookbook
, so you can recreate their recipes in your own home.
Recently we made the banana pudding and vanilla cupcakes with vanilla butter-cream icing.  I have found our 2 favorite recipes (links below). These and many other recipes are available in the cookbook:
Magnolia's Vanilla Cupcakes:
Find the recipe for the vanilla cupcakes here.
Magnolia's Banana Pudding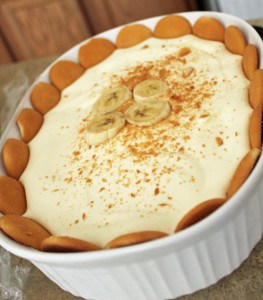 Find the recipe for the banana pudding here.
They truly come out just as good as the treats we had at the NYC location.  I totally recommend purchasing the cookbook so you can have the full Magnolia Bakery experience, especially if visiting NYC is out of the question.
If you're ever in the city, CHECK THIS PLACE OUT! If you can't make it to NYC we highly recommend the Magnolia Bakery Cookbook available on Amazon.