Oven-Roasted Fingerling Fries (Beware, these are addicting)
After attending last weekend's culinary fair, I've been motivated to create some new recipes in the kitchen. Unfortunately, it's challenging to find time and energy to cook during the week, but tonight I threw together these fingerling fries that are big on flavor and only take about 45 minutes to make.
Ingredients: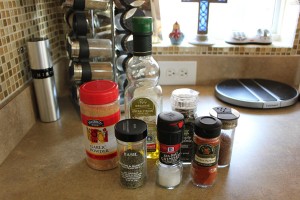 Fingerling Potatoes
Extra Virgin Olive Oil
Garlic Powder
Basil
Sea Salt
Pepper
Smoked Paprika
Chili Powder
1.) Thoroughly clean and scrub the potatoes.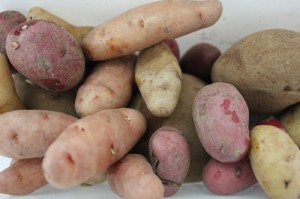 2.) Cut the potatoes in half. This will allow the fingerlings to cook faster and also gives them a nice crisp.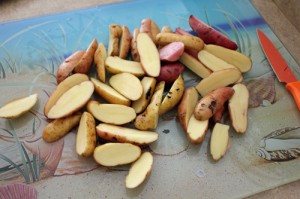 3.) Toss in olive oil. I used about 2 tablespoons, but this will vary by how many potatoes you use. Just use enough oil to give the potatoes a nice coat.
4.) Put on a baking sheet (I line mine with tin foil to cut down on clean-up).
5.) Season with dry ingredients, or a combination of seasonings you like.
6.) Cook in the oven for 25-35 minutes at 450 degrees. The potatoes should be tender in the middle when done.