A couple of weekends ago, I took my mom out to the 1st Annual Fulbrook Cork and Culinary Festival for Mother's Day. We had a great time eating a ton of great food (see our Facebook album here), but also saw several cooking demos while we were there. Top Chef Season 2 Winner Ilan Hall demonstrated how to cook lamb ribs. I'm a sucker for good ribs, so this was the first thing I had to cook when I got home.
For this recipe, I've applied the techniques Ilan taught in his demo, but chose to make pork instead of lamb ribs. The whole process takes anywhere from 10-12 hours.

---
Pork Ribs
Garlic Powder
Kosher Salt
Pepper
Basil
Smoked Paprika (Yes, I use this on just about everything)
Extra Virgin Olive Oil
Plastic Wrap
Aluminum Foil

---
1.) Season both sides of the ribs to your liking. I used a pinch of salt, garlic powder, basil, ground pepper and smoked paprika.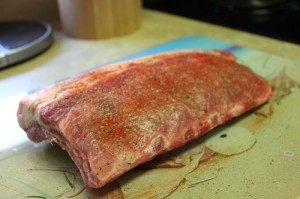 2.) Heat oil in a frying pan. If I had to guess I used about 2 tablespoons total (added a little bit more after this picture).
3.) Brown both sides of the ribs in oil. This took about 10 minutes.
4.) Let the ribs cool.
5.) Pre-heat oven to 170 degrees.
6.) Wrap tightly in plastic wrap (3-4 times). This is very important. It holds in the juices to help make the ribs tender.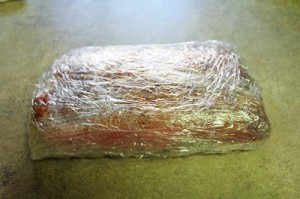 7.) Wrap tightly in foil. You'll need to use 3-4 layers here as well.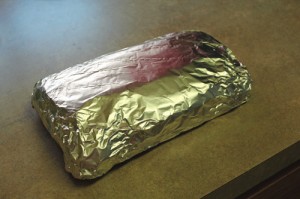 8.) Place ribs in a baking pan (I used a Pyrex dish) and add enough water to cover the ribs about half way.
9.) Bake in oven for 10-11 hours. The longer you cook them the more tender the ribs will be. I cooked mine for 10 hours.

10.) Place on the grill to add a nice crisp to the outsides of the ribs. I cooked mine with the burners at medium high heat for about 10 minutes on each side.
11.) Enjoy!
Me with Top Chef Ilan Hall