I recently started reading Tom Colicchio's book Think Like a Chef
. One of the things Chef Colicchio writes about, that I've really tried to apply, is using the market to inspire my own dishes. This past weekend, Diana and I took a trip to Central Market with that thought in mind. We arrived with no grocery list. We browsed through the produce taking time to smell and taste, and examined the meat and fish counters for cuts we would not normally use. What I ended up with was delicious crock pot pork carnitas tacos and a watermelon salsa.
Crock Pot Pork Carnitas
Ingredients: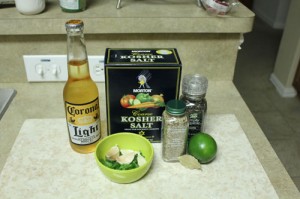 2 lbs. Pork Shoulder (Also known as Boston butt)
4 Cloves Garlic Diced
Kosher Salt (About 2 pinches for each side)
1/4 Cup Chopped Cilantro
Juice from 1 Lime
Dry Oregano (About 1 tsp. per side)
1 Bay Leaf
1/2 Onion Diced (I used a sweet Vidalia onion. Yum!)
1 12 oz. bottle of Corona (You could use chicken stock instead)
Black Pepper (I season 3 turns on the pepper mill for each side. You can season more or less based on your taste)
Directions:
1.) First, start by seasoning each side pork shoulder with salt, black pepper and oregano. Be sure to rub the seasonings into the meat to help infuse the flavor.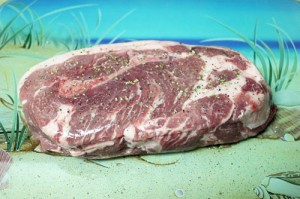 2.) After seasoning the pork, place the pork shoulder in the slow cooker.
3.) Next add the beer, but avoid pouring directly on the pork. This could wash away some of the seasoning you've just added.
4.) After you've poured the beer add diced garlic, chopped cilantro, lime juice, bay leaf, and diced onion.
5.) Now that all the ingredients have been added, cook the pork in the slow cooker on low for 10 hours turning once about half-way through. It's done when you can poke at the pork with a fork and it easily falls apart.
6.) Remove the pork and use two forks to pull into shreds.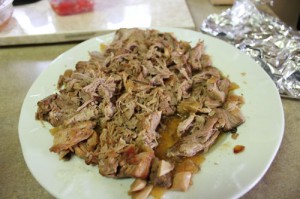 7.) Finally, season with salt and pepper. You can also squeeze on extra lime juice for additional flavor.
Watermelon Salsa:
Prep Time: 15 minutes
Ingredients:
1 Cup Watermelon Diced
1/4 Cup White Onion Diced
1 Tbsp. Chopped Cilantro
1 Tbsp. Seeded and Chopped Jalapeño
Juice from 1/2 a lime
Salt
Pepper
Directions
1.) In a bowl, combine diced watermelon, onion, cilantro and Jalapeño.
2.) Next, add juice of 1/2 of a lime and mix well.
3.) Finally, season with salt and pepper to taste.
4.) Let the salsa marinate for at least 30 minutes before serving.