For the next 30 days, I'll be participating in my first Whole30. Check back for daily updates about my progress.
Day 3 was rough. I woke up and my allergies were terrible and I was tired most of the day. Apparently that's the norm for Day 3 of the Whole30. It didn't help that Friday is typically our Marketing Department's go out to lunch day, which I've elected to skip during the Whole30. I'm bummed I will not be attending for the next 30 days. Oh well life goes on (at least I'll save some money).
Things got a little more exciting when I got home. A paleo cookbook I ordered recently, Well Fed: Paleo Recipes for People Who Love to Eat
, was sitting on my door step. I quickly glanced through it and I'm already excited about all the recipes I will be making. Who knew eating paleo could be so exciting.
Traffic wasn't bad, so I got home a little bit earlier than usual. This allowed me to spend some quality time in the kitchen (as you can see from my dinner below).
Breakfast
2 pasture raised scrambled eggs (from Pasture Verde) with sweet wild onions sauteed  in olive oil.
1/2 of a large Hass Avocado sprinkled with a little bit of salt and smoked paprika
2 pieces of Canadian Bacon
1 Cup Watermelon
Lunch
Lunch was just left overs from Day 2 except I had paleo approved Santa Cruz apple sauce.
5 oz. Grilled Chicken seasoned with salt, pepper, smoked paprika and garlic powder
Grilled veggies including asparagus, yellow squash, yellow bell pepper, cherry tomatoes and shallot
Dinner
I was extremely proud of dinner. My wife is a rice-aholic so I wanted to make something we could share. The paleo rice turned out great!
5 oz. flank steak
Paleo "rice" (it's really Cauliflower and onion cooked in coconut oil) inspired by Nom Nom Paleo. This stuff is awesome! Diana couldn't even tell it was cauliflower.
Paleo friendly cole slaw (Olive oil, white wine vinegar, salt, pepper, onion powder, garlic powder, mustard). I'll be posting the recipe once I perfect it.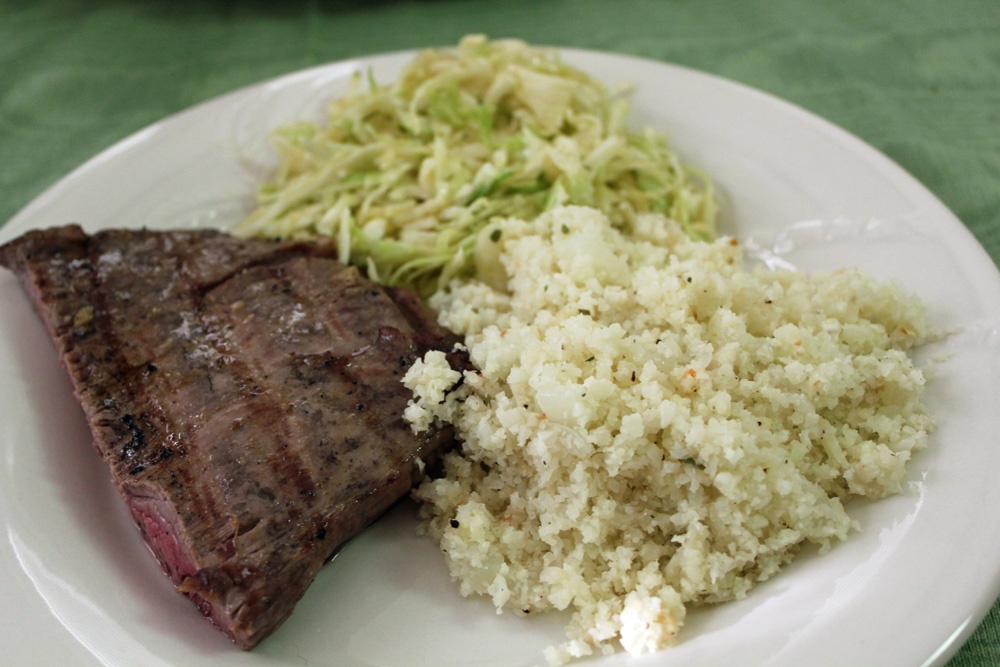 What I'm Listening to Today
Trampled by Turtles – I randomly found this band browsing through songs on Spotify. My current favorite track is Wait So Long. (Trampled by Turtles and the band I mentioned yesterday, The Lumineers, will both be playing at Austin City Limits (ACL) this fall).
[youtube id="Xjdkc14-zwQ" width="600″ height="350″]
Today's Inspiration
"You're going to find naysayers in every turn that you make. Don't listen. Just visualize your goal, know exactly where you want to go. Trust yourself. Get out there and work like hell. Break some of the rules and never ever be afraid of failure." – Arnold Schwarzenegger