We have been on a cook book purchasing kick and recently downloaded Fabio Viviani's breakfast cookbook "Did I really Make Breakfast??? (Well Grandma did help a lot)" found on the Amazon Kindle.  It's a great collection of easy recipes that will make your mouth water.  This morning I decided to use his Apple Maple Pancake & Salty Spicy Bacon recipe as inspiration for the following dish.

---
For the bacon: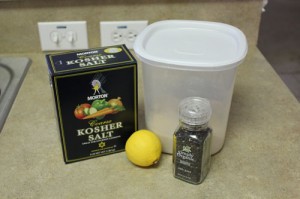 6 slices centercut bacon
1/4 tsp kosher salt
1/4 tsp organic cane sugar
lemon zest to your liking (I'm not a huge lemon fan, so I used very little, but you can add as much or as little as you like)
cracked black pepper
For the pancakes: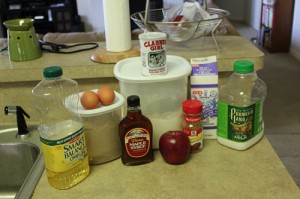 3/4 cup fat free milk
1/4 cup heavy whipping cream
2 eggs
3/4 tbsp brown sugar
1 tbsp canola oil
1 cup all purpose flour
1/4 cup maple syrup
2 tbsp baking powder
1/4 tbsp ground cinnamon
1 small peeled apple chopped

---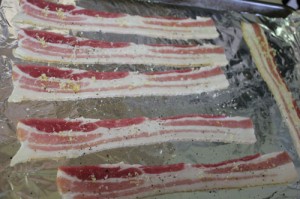 Preheat your oven to 400 degrees.
Place 6 slices of bacon on an aluminum foil lined baking sheet.  Crack fresh black pepper on top of your bacon slices to your liking.
Then in a small bowl combine salt, sugar, and lemon zest and sprinkle on the bacon slices.
Bake for 12-15 minutes or until the bacon is cooked how you like it.
While the bacon is in the oven, gather the ingredients for the pancakes.
Throw everything except the apple in a blender and combine on low until smooth.  The mixture will be runny but that is o.k.
Then throw in the apple (leave some for garnish if you like; it adds a nice fresh crunch to the finished product if you leave some on top of the finished pancakes) and mix together with a spoon.
In a preheated griddle or pan on the stove that's over medium low heat, pour your desired pancake size and flip over once edges get firm and the top gets bubbly.
Cook for about 2 minutes or until its cooked all the way and no liquid is visible.  I made my pancakes quite large and I got about 6 pancakes from my batch.
Place the bacon on top of the pancakes and serve with syrup and if you'd like chopped apple on top.  You'd be surprised how yummy the lemon zest is on bacon, I would have never guessed!!!  Great trick Fabio, I love it! It's sooo easy and SOOOOOO YUMMY!!! 🙂