Hummus is a healthy snack with bold flavors. In just 10 minutes, you can have delicious homemade hummus without the extra preservatives included in most store bought varieties.
Ingredients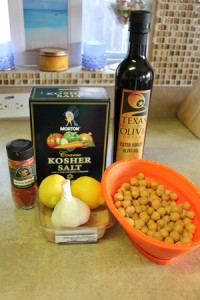 [list]
1 3/4 cup canned organic chickpeas (look for an organic variety such as this without preservatives)
1/4 Tahini (also known as sesame paste)
3 Tablespoons Lemon Juice
1 Teaspoon Kosher Salt
2 cloves garlic
1 Tablespoon Olive Oil
Smoked Paprika
[/list]
Directions
[list type="numlist"]
Drain, rinse and dry the canned chickpeas
Combine all the ingredients in a food processor and combine until it reaches your desired texture
Finish off your hummus by sprinkling with paprika
[/list] [box type="info"] If your hummus is chunky after combining in the food processor, gradually add additional olive oil while the food processor is running (about 1-2 teaspoons). This will help to create a smooth texture.
[/box]
Do you have a favorite hummus recipe? Share it in the comments.