Up until a couple of weeks ago, La Condesa had been on my "Places to Eat list" for much too long. It took a visit from Anthony Bourdain to finally bump it up to the top of my list.
I loved the atmosphere of La Condesa. The big floor to ceiling windows brought in a lot of natural light. Mixed with the vibrant colors and decorations, the restaurant gave a great first impression.
We started off with the Guacamole Tasting for the table. I thought all the options were good, but my favorite by far was the Chipotle puree and toasted almond guacamole. It had a nice smokey flavor and the chipotle brought a subtle heat without being overly spicy. I also liked the crunch the toasted almond brought. 
Guacamole Tasting includes:
Traditional
Chipotle puree & toasted almond
Pomegranate, pomegranate molasses and queso fresco
Lump crab, apple, coconut vinegar (this was my second favorite)
Four seasonal salsas that are made fresh every day (flavors vary)
Thanks to a great recommendation from our waitress, I ordered the Ahogada de Carnitas. I wasn't familiar with Ahogada style tortas, so I was a little surprised when my sandwich arrived.  Tortoa ahogada roughly translates into a "drowned sandwich", so it is actually served swimming in a guajillo dipping broth. I was a little intimidated at first. I really had no idea how to eat this sandwich. I resorted to a fork and a knife. The pork carnitas was tender and delicious. Combined with pickled onions and a black bean puree, I thoroughly enjoyed the bold flavors of the sandwich. It was also served with a refreshing side salad and crispy potato chips.
As if the meal wasn't enough, we also decided to try the Mexican Street Corn. Served rolled in Cotija Cheese and chili powder, I'm glad we decided to splurge. It was awesome!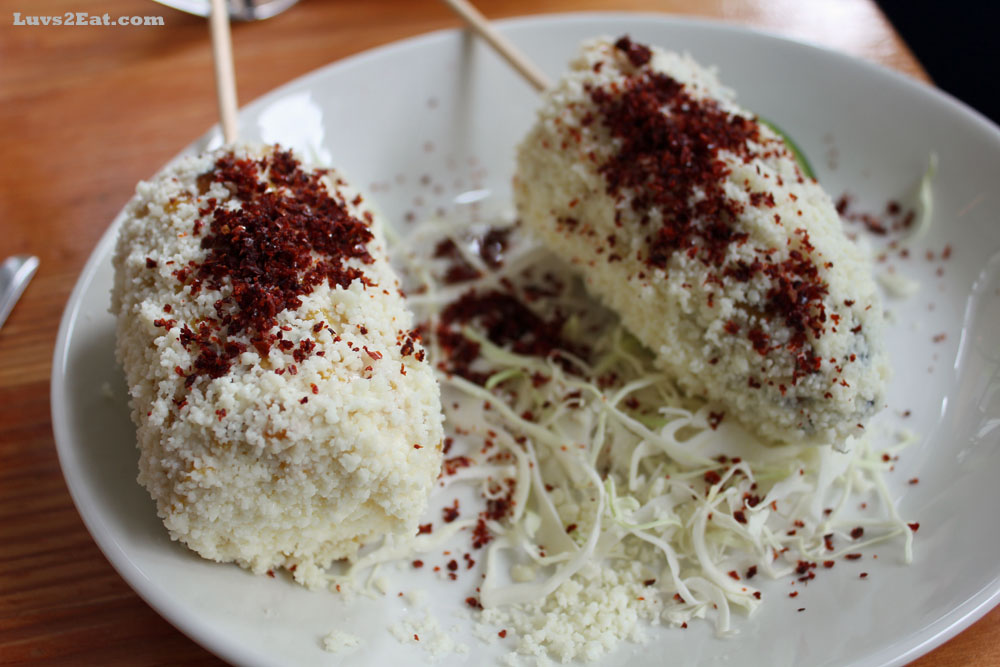 Overall I thought the food was fantastic. I really enjoyed La Condesa and would highly recommend it if you're looking for a nice lunch or dinner in the 2nd Street District.
Price Range: $$$ ($10-$20 for entrees at lunch. My sandwich was $12 before tax and tip).
Parking: You can find street parking if you're lucky. We parked at City Hall. La Condesa validates parking.
Location: 2nd Street and Guadalupe Map
Photo Gallery: